I've been asked several times about the differences between centralized and decentralized resource project management and which do I feel is more effective.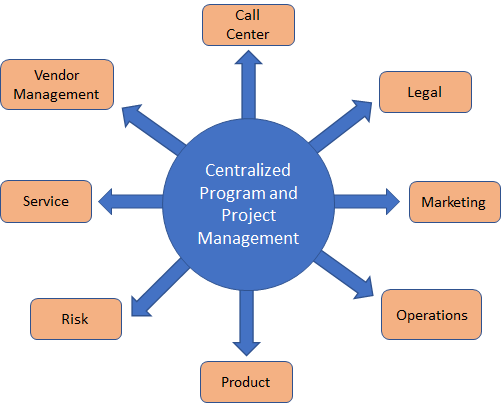 Centralized Resource Project Management – All project, program, and portfolio managers are in one group within the organization, usually under the EPMO. The thought here is that all resources are pooled under one group and any project, program, or portfolio manager can work on or manage any project, program, or portfolio within the organization since the management life cycle or process is very similar throughout the firm. This lends itself to an agnostic approach to project management. It does have its pros and cons.
Pros:
All under one PMO following a single standard
A single enterprise source or repository for project and program management talent
Provides for easy rotation between business segments
Consistent work inputs and outputs
Cons:
Not aligned specifically to business unit
More difficult to become a Subject Matter Expert for the business unit
PM usually doesn't report directly to the Business Leader
Normally works in functional or matrixed environment with less authority
Additional overhead of a PMO

Decentralized Resource Project Management – Project, program, and portfolio managers work directly for a Line of Business. They will most likely become functional or projectized managers. They work directly under a Line of Business and are usually considered experts in their respective field. Usually reports directly to a director, VP, or CEO.
Pros:
Typically, a projectized environment, so the PM has more authority over the project(s) and associated resources
The PM is most likely a subject matter expert (SME) in the line of business
PMs usually report into Line of Business managers so there is not as much overhead as a PMO
Cons:
Siloed to one business unit; more ramp-up time is needed if the PM moves to a different business unit
Business unit may not follow a standard PM methodology
Lack of an adherence or cooperation to project management best practices
My answer to this question is that it depends on what the organization is looking to accomplish. Both approaches work well in most organizations depending on how the firm determines to use their PMO and resources.
If the organization is looking to standardize their approach to Project management and would like to ensure that the PMO standards are used company wide, are looking for their PM resources to work in any segment or channel in the firm, and wants a single point of contact for PM resources. The centralized approach works to the benefit of everyone within the organization. The centralized approach offers the one shop stop and standardized approach to project and program management.
However, the decentralized approach is better for an organization that is contemplating their PMs to be become an expert in segmented field of work or as a functional manager. Also, this approach is better if the enterprise is not looking for a standardized management approach or doesn't want the overhead of running a PMO as part of the enterprise. The decentralized approach can be very effective if the segment specializes in an operational discipline.